Pure Colombia
Why to choose this agent
Pure! Colombia Travel, an Incoming Tour Operator based in Bogotá, was created in February 2013 and began formal operations in April 2013. Our motivated staff knows the country very well including the touristic trails and áreas not known outside the country. Pure! Colombia is part of Pure! Travel Group with offices in Perú, Bolivia and Ecuador and an experience of over 10 years with European, Northamerican and Australian customers.
Our services aim at aiding local communities to preserve their culture and help with their support.
We are proud members of ATTA (Advenutre Travel and Trade Association) and Global Dicovery, globla organisations that support Sustainable and responsable Tourism.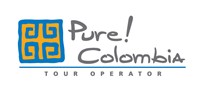 Carrera 17A # 136-55
Bogotá, Colombia