Visit Georgia
Why to choose this agent
We're pleased to invite you to travel to one of the most ancient and fascinating countries of the world – Georgia.
Trust us with your holiday planning and with our experience, professionalism, creativity and enthusiasm we'll tailor a journey to the most magnificent places of Georgia and take you through the great adventures.
Our tours are as unique as each of you. We're glad to assist everyone – those who already know what they wish to see and do and those who require inspiration. We are here for you to create a journey that will surpass your expectations and interests.
It's been 20 years that "Visit Georgia" provides premium quality service to each guest. Since 2006 we've been # 1 tour operator in Georgia. Our qualified and friendly staff, the best guides in Georgia and personalized, top quality services make unforgettable holidays for each guest.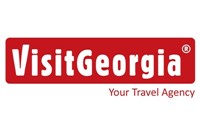 4a, Ingorokva str, 0105
Tbilisi, Georgia